Fourth CAWa Summer School (2017)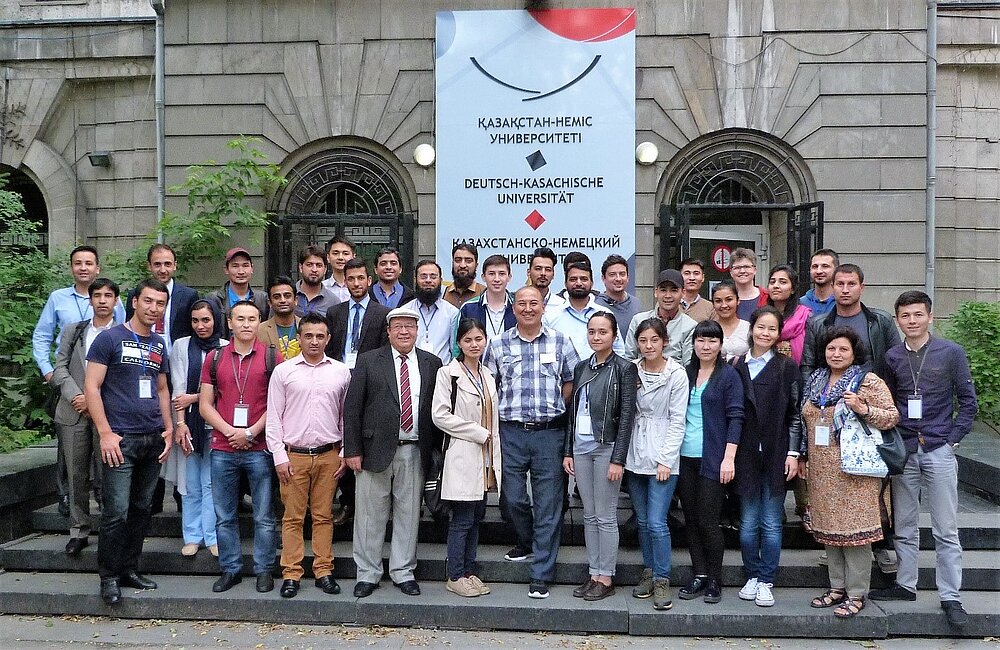 Programme
The Summer School introduced innovative methods and tools for analyzing and monitoring water and soil resources in Central Asia. These methods are of great value in the context of integrated water and land resource management. The 2-week summer school combined theoretical lectures and hands-on exercises with discussion panels on implementing new methods and tools to manage water and soil resources in Central Asia. The program included an in-depth introduction to geographic information systems (GIS), an overview of remote sensing applications for water and land resource monitoring, an introduction to climatological data analysis and an introduction to glaciology.
Summer School participants included 42 dedicated Master's and PhD students, as well as junior professors and researchers interested in geoscientific tools for integrated water and land resource management and their practical implementation. Participants were eligible from both the Central Asian countries: Kazakhstan, Kyrgyzstan, Tajikistan, Turkmenistan, Uzbekistan, as well as Afghanistan and Pakistan. The participants were selected on the basis of their application documents (letter of motivation, curriculum vitae). In addition, the three winners of the National (Kazakh) "Olympics" for Integrated Water Resource Management, which was held by the DKU immediately before the Summer School, were awarded eligibility.
This year, half of the participants were from Afghanistan and Pakistan. The CAWa project provided the financial resources (travel and accommodation expenses) for the selected participants from Central Asia, while the Afghans and Pakistanis were funded by the USAID PEER program. The OSCE supported the IWRM-related exercises and the trip to the EXPO in Astana.
Organisatoren
CAWa Projekt "Water Research Network in Zentralasien"
Deutsch-Kasachische Universität, Masterstudiengang "Integriertes Wasser-Ressourcen-Management", Almaty,
Kasachstan Universität Würzburg, Institut für Geographie und Geologie, Lehrstuhl für Fernerkundung, Deutschland
Helmholtz-Zentrum Potsdam, GFZ Deutsches GeoForschungszentrum, Sektion Hydrologie, Deutschland
In Zusammenarbeit mit
CAWa Projekt "Water Research Network in Zentralasien"
Nazarbayev Universität, Fachbereich Bauingenieurwesen , Ingenieurschule, Astana, Kasachstan
Fribourg Universität, Physische Geographie, Schweiz
Helmholtz Centre Potsdam, GFZ German Research Centre for Geosciences, Hydrology Section, Germany