Remote Sensing for Hydrological Monitoring (2013)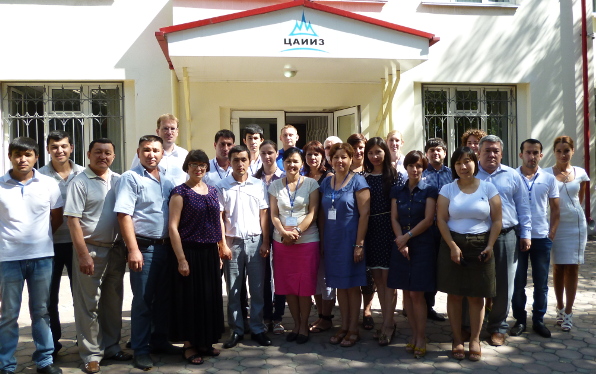 In cooperation with the German Research Centre for Geosciences (GFZ) in Potsdam and the Central-Asian Institute for Applied Geosciences (CAIAG) a five days training course in the framework of the CAWa initiative ("Water for Central Asia"), financed by the German Foreign Office, was held in August 2013 for participants from the central Asian states Tajikistan, Kyrgyzstan, Turkmenistan, Uzbekistan and Kazakhstan.
The participants from Kyrgyzstan came from the Central-Asian Institute for Applied Geoscience in Bishkek, from the KyrgizHydromet in Bishkek, from the Kyrgyz Research Centre for Irrigation in Bishkek and from the Hydrometeorological Survey of Batken.
The uzbek participants were representatives from the Institute of Melioration and Water Ressource in Tashkent, the Scientific Information Centre of the Interstate Commission for Water Coordination of Central Asia (SIC ICWC) in Tashkent, the UzHydromet and KRASS (Khorezm Rural Advisory Support Service).
From Kazakhstan representatives from the Kazakh-German University, and Kazhydromet as well as the Regional Centre of Hydrology participated.
Representatives from Tadjikistan were specialists from the Ministry of Melioration and Water Resources, the State Organization of Hydrometeorology as well as the Tajik branch of Scientific Information Center of the Interstate Coordination Water Commission (SIC ICWC).
From Turkmenistan a representative of the Scientific Information Center (SIC) on Interstate Sustainable Development Commission on International Fund for Saving the Aral Sea participated.
The goal of the course was the mediation of basic knowledge on the use of satellite based land use and land cover classification, as well as hydrological modeling based on remote sensing data. For that purpose theoretical knowledge about satellite remote sensing was deepened, and practical issues like the calculation of watersheds using digital elevation data fromSRTM (Shuttle Radar Topographic Mission) were trained. The participants were invited to bring their own GIS or Geodata with them. Questions exceeding the course program such as ArcScene were handled individually.
The output of the course was a landcover classification as well as water basin model derived from STRM data based on freely available Landsat 8, SRTM and GoogleEarth.
The practical part of the course focused on the application of ArcGIS software and Google Earth. The course was led by Sylvia Lex and Alexandra Breiter from the University of Wuerzburg as well as Zafar Gafurov from the International Water Management Institute (IWMI) in Tashkent, Uzbekistan. The course was organized by Aijan Ainabekova from CAIAG and Katy Unger-Shayesteh and Stephan Duckert from GFZ.
Outline of the course:
Theoretical background of satellite remote sensing

Data download (Landsat 8, SRTM) and visualization in ArcGIS

Digitizing in Google Earth and ArcMap

Using ArcGIS tools for raster data

Vector data in ArcGIS

Calculation of watersheds and river flows

Classification

Area statistics

Creating maps in ArcGIS