Land Use Mapping in the Isafara Basin (2012)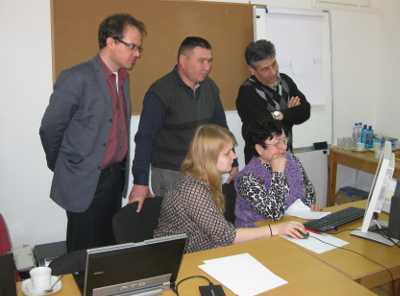 Two 10-days courses for 4 participants from Tajikistan were held in Batken (Kyrgyzstan) and Khudjand (Tajikistan) in cooperation with the Gesellschaft für Internationale Zusammenarbeit (GIZ) and the University of Wuerzburg. This was done in the framework of the CAWa initiative ("Water for Central Asia"), founded by the Foreign Office, and the WMBOCA project ("Water Management and Basin Organizations in Central Asia"), founded by the EU.
Participants of the courses were representatives of the Kyrgyz Research Centre for Irrigation in Bishkek, the Ministry of Melioration and Water Resource in Dushanbe, the Hydrometeorological Survey of Khujand, and the Hydrometeorological Survey of Batken.
The goal of the courses was the mediation of basic knowledge on the use of satellite based land use and land cover classification, as well as hydrological modeling based on remote sensing data. For that purpose theoretical knowledge about satellite remote sensing was deepened, and practical issues like the calculation of watersheds using digital elevation data (SRTM) were trained. Two field trips to the Isfara basin completed the courses by collecting reference data for the classification with GPS.
The individual results of the participants were presented in another 4-days course in Khudjand between the 4th and 7th March 2013. The outcome of the courses was a land cover and land use map of the catchment area in the Kyrgyz-Tajik border region of the Isfara River, based on freely available Landsat data.
The practical part of the courses focused on the application of ArcGIS software and Google Earth. All courses were led by Prof. Dr. Christopher Conrad, Gunther Schorcht, and Elisabeth Fliemann, (University of Wuerzburg). Prof. Dr. Frank Schrader and his colleagues from the GIZ, Zarrina Mirzoboeva (Tajikistan) und Rustam Madumarov (Kyrgyzstan), were responsible for the organization of the courses.
Outline of the courses:
Theoretical background of satellite remote sensing

Practical introduction to ArcGIS 9.3/10 and Google Earth

Data download (Landsat, SRTM) and visualization in ArcGIS

Digitizing in Google Earth and ArcMap

GPS application

Using ArcGIS tools for raster data

Vector data in ArcGIS

Calculation of watersheds and river flows for the Isfara catchment

Classification

Creating statistics

Creating maps in ArcGIS